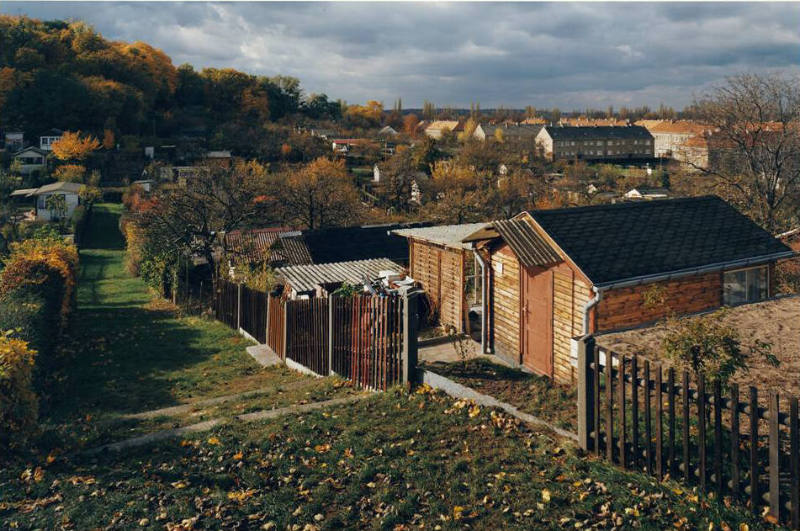 Artist

Stan Douglas
Title

Untitled
Date

1996
Medium

color photograph on warm-toned paper
Dimensions

Image: 15 3/16 × 22 13/16 inches (38.6 × 57.9 cm)Sheet: 19 15/16 × 23 15/16 inches (50.6 × 60.8 cm)Matted: 24 × 30 inches (61 × 76.2 cm)Framed: 24 × 30 inches (61 × 76.2 cm)
Tags

Photography
Credit Line

Gift of Zoë and Joel Dictrow.
Accession Number

2013.4.2
Stan Douglas produced a film titled Der Sandmann in 1995, where he reconstructed the garden colonies of Germany, plots of land known as schrebergärtens, given to poorer citizens to farm and provide food in the mid-to-late 19th century. The gardens were tied to food security during the industrialization and machination of Germany as it subsequently led the country through two world wars.

This photograph is an image of the stage-set for Der Sandmann that continues the narrative outside of its filmic manifestation. The photograph captures what the schrebergärtens might have looked like in their initial idyllic vision; however, today many have been razed to make way for shopping and high-rise luxury apartments. Both this image and his film ask the viewer to consider the history and evolution of a place. In the film, Douglas uses the literary texts of Sigmund Freud's The Uncanny (1919) and E.T.A. Hoffman's story The Sandman (1816) to provide a rich context for the loss of landscape. Often, Douglas concentrates on particular locales to expand outwards and examine broader issues, usually related to destruction, gentrification, and failed utopic visions.

Stan Douglas is a photographer, filmmaker, and multimedia installation artist from Vancouver, where he still lives and works.