Portrait of George Johnson Baldwin
Gari Melchers, George J. Baldwin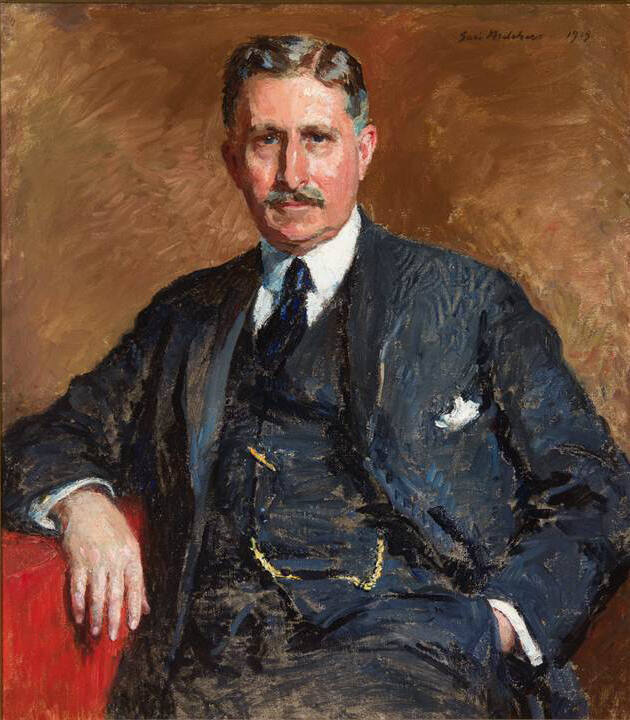 Artist

Gari Melchers, George J. Baldwin
Title

Portrait of George Johnson Baldwin
Date

1919
Medium

oil on canvas
Dimensions

Canvas: 35 1/2 × 31 1/2 inches (90.2 × 80 cm)Framed: 43 × 38 3/4 × 2 1/2 inches (109.2 × 98.4 × 6.4 cm)
Tags

Painting
Credit Line

Gift of Mr. George H. Baldwin III.
Accession Number

2015.15
This likeness of George Johnson Baldwin is an excellent example of artist Gari Melchers's skill as a portrait painter. The sitter's keen expression combines with fluid brushwork and astute use of color (most notably the red table at the lower left) to produce a dynamic composition.

Johnson was a Savannah-born businessman who served on the Telfair's board from 1902-1917. His many civic activities in Savannah included participating in the founding of the Savannah Public Library Association, serving as a member of the Savannah Park and Tree Commission, and acting as a trustee of Bethesda Orphanage and Chatham Academy.