Farmers' Protest
Ferdinand Brütt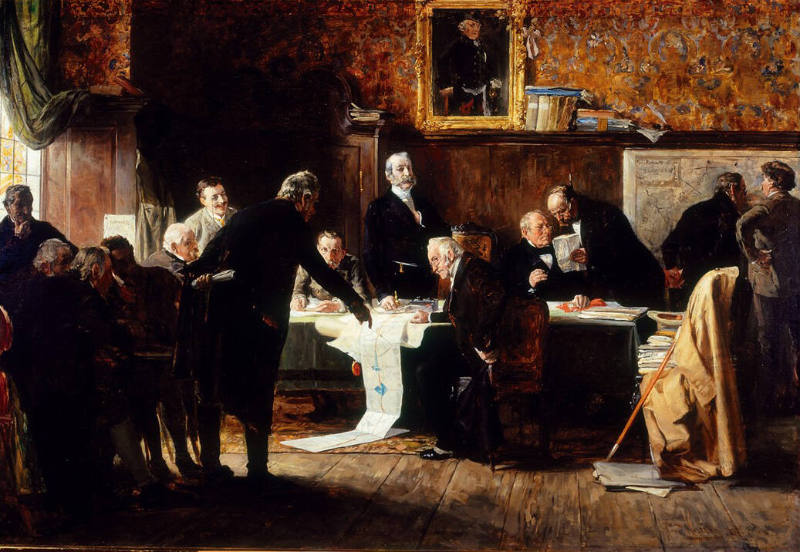 Artist

Ferdinand Brütt
Title

Farmers' Protest
Date

c. 1882 - 1883
Medium

oil on canvas
Dimensions

Canvas: 42 × 62 inches (106.7 × 157.5 cm)Framed: 43 3/8 × 63 × 2 1/4 inches (110.2 × 160 × 5.7 cm)
Tags

Painting
Credit Line

Museum purchase.
Accession Number

1883.4
Telfair's first director, Carl Brandt, purchased this painting for the museum's collection in 1883. Ferdinand Brütt was, according to Brandt, "one of the strongest genre painters in Germany." The Savannah Daily Times, in announcing the acquisition, titled Brütt's painting, "The Dispute Between Capitalist and Farmer Over the Location of a New Railroad."

--------------------------------------------

Temporary Catalogue
Main Picture Gallery
Telfair Academy of Arts and Sciences
Savannah, GA
The Morning News Print, 1890

Farmers' Protest. By Ferdinand Brutt, of Dusseldorf.

This picture represents the adjustment of claims for damages for the right of way of a new railway. The adjustment is being made in a Government law office. The gentleman standing behind the table, near the centre of the picture, is the President of the railway and of the Commission. The one on his left, seated, with a red handkerchief on the table, is a rich, country shareholder and another of the Commission. The one sitting in front of the table, near the railway map, is a wealthy, city shareholder, also a commissioner. The gentleman with a pen behind his ear, standing by and talking to the Commissioner, who has the red handkerchief, is the Government officer. Behind him, at the extreme right of the picture, is the Chief Engineer, who is explaining to the village schoolmaster the route and advantages of the road. On the right of the President is seated the Secretary of the Commission, on his right is standing the Assistant Engineer, and by him is seated another Commissioner. On the left, and in the foreground, are grouped the farmers. The Prefect of the village stands bending over the railway map, protesting against the wrong which would be inflicted upon an old aunt, through whose acre-and-a-quarter lot it is proposed to run the railway should the designated route be adhered to, since she was born and had lived eighty years in a cabin on the same, forgetting that she would be fully compensated by a cash payment and the enhanced value of her lot.

Each farmer has some similar personal objection, the object of which may be to increase the damage money. The schoolmaster, who is a "wise man" of the village, and by whose opinion all are guided, listens attentively to all the Chief Engineer says, but shrewdly keeps his eyes on his face, rather than the map, the better to judge of his sincerity. The picture was engraved and published in the Leipzig Illustrated Zeitung. It was bought by the Director of the Academy at the International Exposition in Munich in 1883, where it was awarded a medal.