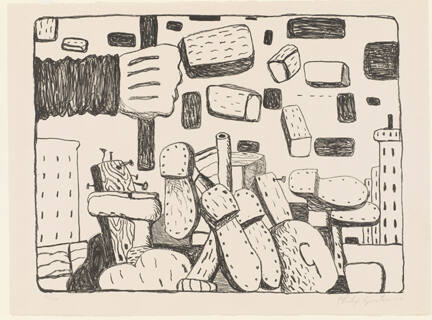 Artist

Philip Guston
Title

The Street
Date

1970
Medium

lithograph on paper
Dimensions

Sight: 21 1/4 × 27 1/4 inches (54 × 69.2 cm)
Tags

Print
Credit Line

Gift of Mr. and Mrs. Samuel Dorsky.
Accession Number

1973.8.13
Philip Guston is an American painter known for his influential and personal style of figuration, but he began his career as an Abstract Expressionist. With an early interest in art, Guston attended Los Angeles' Manual Arts High School where he met Jackson Pollock, who became one of the world's most seminal AbEx artists.

After moving to New York City in 1936, Guston spent more time with Abstract Expressionists such as Willem de Kooning and Mark Rothko. Being part of such an intensive New York art scene influenced his gestural, expressive paintings. However, in 1967, Guston became increasingly frustrated with abstraction and returned to his personal style of figuration. The Street was created shortly after Guston's change of style for which he remains best known—an iconic lexicon of symbols such as shoes, hands, cigarettes, clocks, lightbulbs and Klansmen.