Café Fortune Teller
Mary Hoover Aiken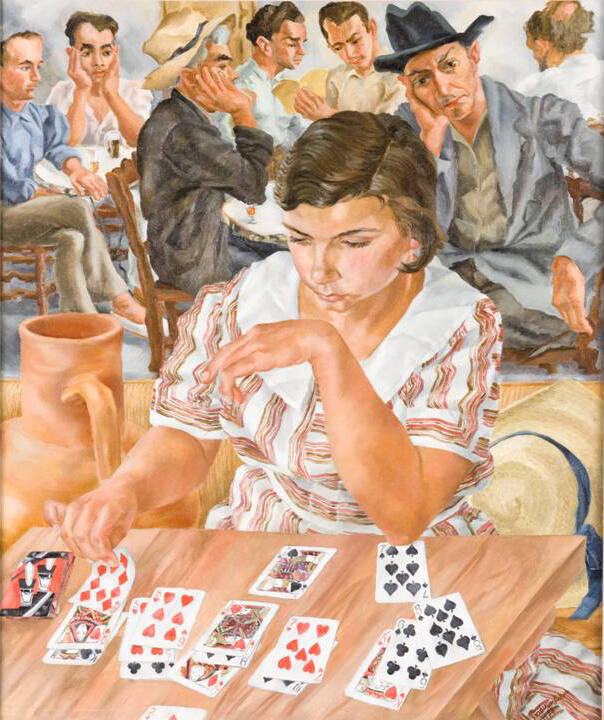 Artist

Mary Hoover Aiken
Title

Café Fortune Teller
Date

1933
Medium

oil on canvas
Dimensions

Canvas: 33 5/8 × 28 7/8 inches (85.4 × 73.3 cm)Framed: 35 × 30 1/8 × 1 inches (88.9 × 76.5 × 2.5 cm)
Tags

Painting
Credit Line

Gift of friends of Mary Hoover Aiken.
Accession Number

1975.3
Born Mary Augusta Hoover in western New York and raised in Washington, D.C., Mary Hoover Aiken showed early artistic promise and earned the opportunity to study at the Corcoran School of Art and under such notable artists as Charles Webster Hawthorne and George Luks. Although the style of Café Fortune Teller evokes American scene painting, the work was completed on the island of Ibiza just prior to the outbreak of the Spanish Civil War. This self-portrait shows the artist reading her own fortune amidst the bustle of a café.

In 1936, Mary Hoover met the Savannah-born poet Conrad Aiken, whom she married in 1937. Her later works included portraits of famed author T.S. Eliot and British painter Edward Burra, and she also had solo exhibitions at the Telfair in 1964 and 1975.