America Her Best Product
Ed Joseph Ruscha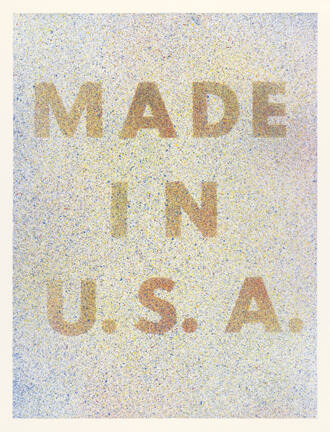 Artist

Ed Joseph Ruscha
Title

America Her Best Product
Date

1975
Medium

lithograph on paper
Dimensions

Sheet: 31 1/4 × 23 1/2 inches (79.4 × 59.7 cm)
Tags

Print
Credit Line

Gift of P. Lorillard & Company.
Accession Number

1977.23
"Somewhere there should be a stamp or impression (I get the impression) that America made herself. And isn't she her best product?"
̶ Ed Ruscha

A major player in the West Coast Pop Art movement of the 1960s, Ed Ruscha spent several of his early artistic years working in commercial art, for advertising agencies and magazines, before deciding to make his career in fine art. The written word and commercial processes would continue to strongly impact Ruscha's work. He is best known for his "word paintings," which are composed of words or brief phrases, often rendered to appear three-dimensional.

America Her Best Product is part of the Kent Bicentennial portfolio: Spirit of Independence, published in 1975 by Lorillard, A Division of Loews Theatres, Inc. and the same producers as Kent cigarettes, in order to "help illuminate the American experience as a contemporary expression of the meaning of our country's independence." Participating artists responded to the question: What does Independence mean to me? In Ruscha's case, America built herself on her own, as a commercially successful product.