Dr. Noble Wimberly Jones
Rembrandt Peale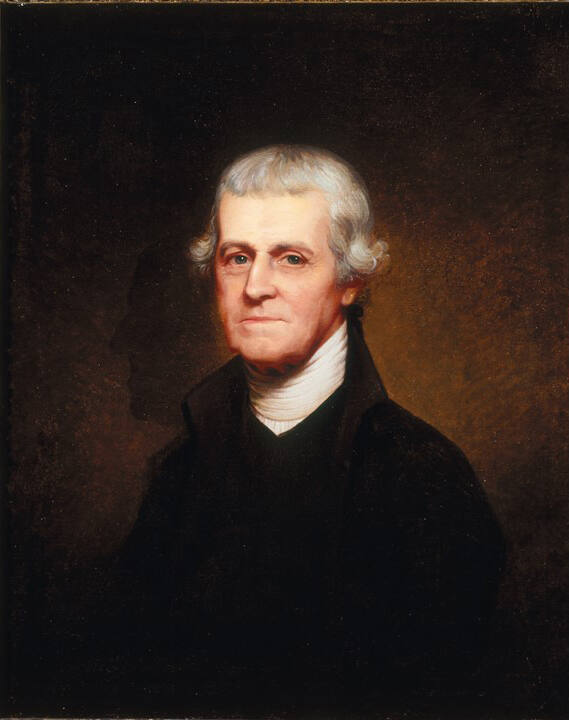 Artist

Rembrandt Peale
Title

Dr. Noble Wimberly Jones
Date

c. 1804
Medium

oil on canvas
Dimensions

Canvas: 30 × 25 1/4 inches (76.2 × 64.1 cm)Framed: 37 1/2 × 32 1/2 × 2 1/2 inches (95.3 × 82.6 × 6.4 cm)
Tags

Painting
Credit Line

Gift of the Wormsloe Foundation, Inc.
Accession Number

1981.14.1
Dr. Noble Wimberly Jones emigrated from England to Georgia with his parents in 1733. In addition to being a notable doctor of medicine in Savannah, Jones served as elected speaker of the Lower House of Assembly of Georgia from 1768 to 1770. Because he was so outspoken in his opposition to British rule, Georgia's governor (James Wright, whose portrait can be seen to the right) dissolved the entire assembly in an effort to curtail his influence. Later, Jones would become a delegate to the Continental Congress.

The shadow cast by Jones's profile in the background of the portrait honors Jones as a political figure. Profiles of the United States' new leaders were frequently circulated during the decades after the nation's founding, and deliberately evoked the heroic coins and medals of the Roman republic.