Good and Evil
Leroy Almon Sr.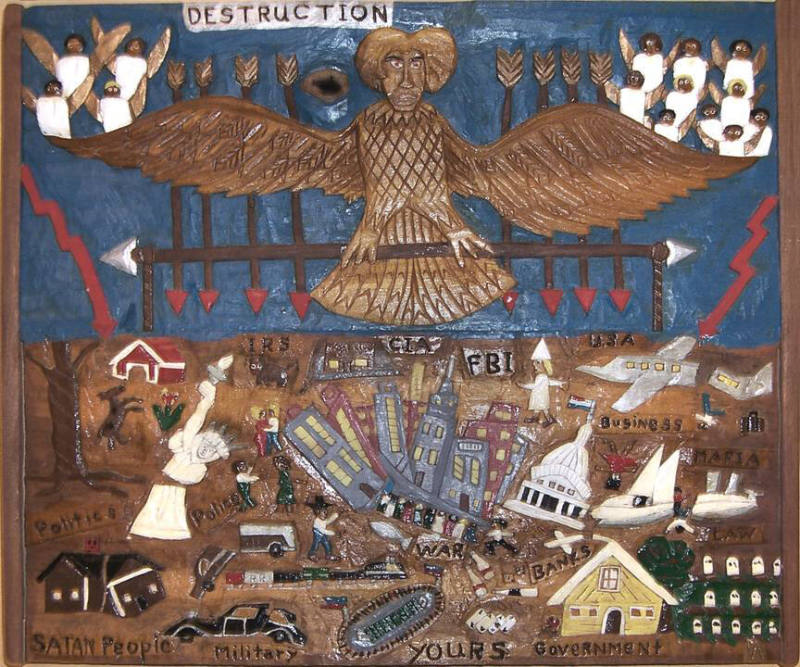 Artist

Leroy Almon Sr.
Title

Good and Evil
Date

1983
Medium

painted relief wood carving
Dimensions

Carving: 14 7/16 × 16 3/4 inches (36.7 × 42.5 cm)Framed: 14 7/16 × 17 1/2 × 1 1/2 inches (36.7 × 44.5 × 3.8 cm)
Tags

Mixed Media
Credit Line

Gift of The Judith Alexander Foundation.
Accession Number

2011.20.4
Leroy Almon Sr. was a nondenominational evangelical preacher from Tallapoosa, Georgia, who began carving his interpretations of spiritual and contemporary secular themes during an apprenticeship with Elijah Pierce, a well-known African American lay minister and wood carver in Columbus, Ohio. Almon met Pierce when he moved briefly to Ohio to take a job with Coca-Cola.

First collaborating and then making his own works of art, Almon returned to Tallapoosa for another job. Like his mentor Pierce, Almon has become famous for his painted bas-relief depictions of African American life and religious imagery.