Madonna of the Fields
Gari Melchers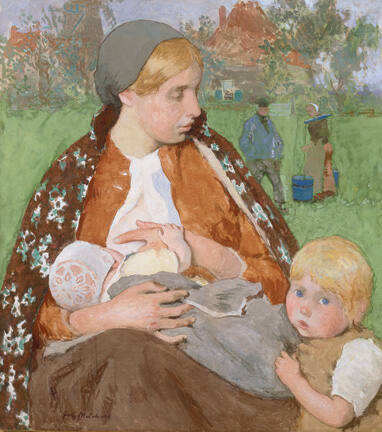 Artist

Gari Melchers
Title

Madonna of the Fields
Date

c. 1895 - 1900
Medium

gouache on canvas
Dimensions

Framed: 40 1/2 × 33 5/8 inches (102.9 × 85.4 cm)
Tags

Painting
Credit Line

Museum Purchase in memory of Daniel and Effie Denny with funds provided by the Daniel Denny Bequest.
Accession Number

1998.4
In 1884, American artist Gari Melchers and his friend George Hitchcock (also represented in the Telfair's collection) established a permanent studio in the rural Egmonds in Holland. Melchers soon earned acclaim as a painter of Dutch scenes celebrating the simple virtues of hard work and pious reverence.

Madonna of the Fields appeared on the cover of the New York Evening Post Saturday Magazine in December of 1915. A young mother seated in a bucolic village landscape serenely nurses her baby while her other child cuddles close, gazing at the viewer through large blue eyes. Traces of pencil – elegant and subtle – underlie the gouache paint, inviting closer examination of Melchers' masterful touch. Melchers was attracted to the theme of mother and child throughout his career, although he and wife remained childless. As the title of this work suggests, these figures transcend their individuality to become universal symbols reflecting the sacred bond of mother and child.