Lady with Goldfish Bowl
Julian Russell Story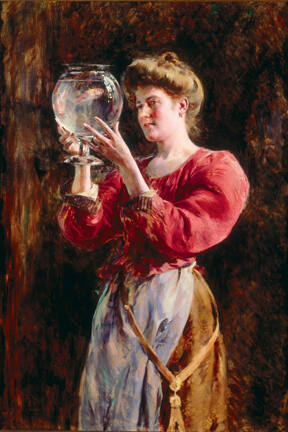 Artist

Julian Russell Story
Title

Lady with Goldfish Bowl
Date

n. d.
Medium

oil on canvas
Dimensions

Canvas: 50 1/4 × 34 1/2 inches (127.6 × 87.6 cm)Framed: 55 3/4 × 40 1/4 inches (141.6 × 102.2 cm)
Tags

Painting
Credit Line

Gift of the Estate of Vera Story Roosevelt in memory of her daughter Felicity (Bebe) Benoliel.
Accession Number

2001.21
At Telfair Museums, Julian Story has long been admired as the painter of The Black Prince at Crécy (1888), the largest painting in the museum's collection. However, that massive history painting, currently on view downstairs in the Rotunda Gallery, is in many ways atypical of Story's work. Lady with Goldfish Bowl is a fine example of Story's portraiture, for which he was best known.

The son of American poet and sculptor William Wetmore Story, Julian Russell Story was born in Walton-on-Thames, England, and spent much of his life abroad. Lady with a Goldfish Bowl is an excellent example of Story's portraiture. The attractive model, whose identity is unknown, holds a goldfish bowl to the light, admiring the fish within. Her informal dress suggests that she may be a house servant, or perhaps she is intended to represent a figure from an earlier era. The fluid, painterly brushstrokes are characteristic of Story's technique and link this serene portrait to the dynamic Black Prince.