Untitled
Radcliffe Bailey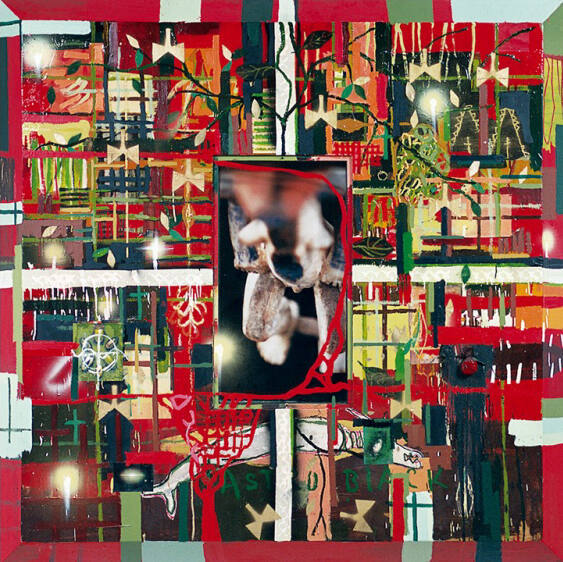 Artist

Radcliffe Bailey
Title

Untitled
Date

1999
Medium

acrylic, photograph, plexiglass, oil stick, resin, spray paint, glitter and velvet pouch with key
Dimensions

Framed: 80 × 80 × 5 inches (203.2 × 203.2 × 12.7 cm)
Tags

Mixed Media
Credit Line

Museum purchase with funds provided by the bequest of Dr. William and Mrs. Mildred Weichselbaum.
Accession Number

2004.16
This untitled work is part of a series of mixed media paintings titled Kindred that Bailey undertook as he anticipated the birth of his daughter in 1999. Each painting contains a centralized photograph culled from Bailey's grandmother's collection of family tintypes and from his own images of African sculptures. Set into the panel behind a sheet of Plexiglas, these photographs are surrounded by the artist's signature web of painted and collaged elements. Each piece in the series honors a different aspect of African American history.

Bailey's dense multimedia works interweave narrative fragments of African American history with the artist's own experiences as a black man. Typically, he creates a complex layering of painted marks, written words, photographs, found objects, glitter, dirt, and resin to form an associative collage. Bailey likens his improvisational method to practicing and performing jazz, which is an extremely important as a conceptual basis for his artmaking. Bailey's gift lies in his ability to respect and empathize with the past—the broad spectrum of pain, sorrow, and joy that Africans and African Americans have both endured and embraced—and then to synthesize this into works of provocative and formal beauty that are distinctly his own.