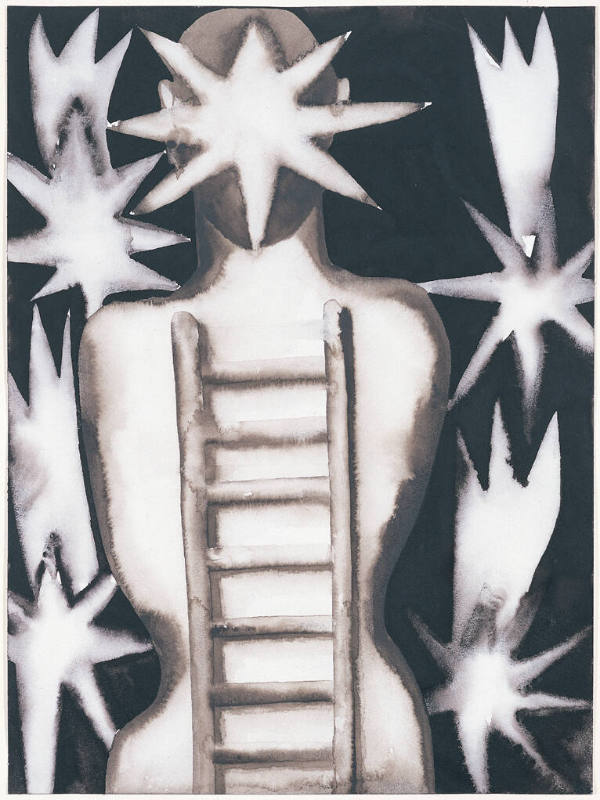 Artist

Francesco Clemente
Title

Crown
Date

2003
Medium

watercolor on paper
Dimensions

Image (Sight): 23 3/4 × 18 inches (60.3 × 45.7 cm)Framed: 23 3/4 × 18 inches (60.3 × 45.7 cm)
Tags

Painting
Credit Line

Kirk Varnedoe Collection, Telfair Museum of Art, Savannah, Georgia, Gift of the Artist.
Accession Number

2006.9
Francesco Clemente was born in Naples, Italy in 1952. Moving to Rome to study architecture in 1970, Clemente soon abandoned his planned course of study to pursue a career as an artist. His highly personal and representational work, which utilized a bold, expressionistic style and incorporated the recurring subjects of the human form, sexuality, myth, and spirituality, contrasted starkly with the Conceptual art and Arte Povera popular at the time. Many heralded Clemente as a leader of the return to figurative painting and Neo-Expressionism in the 1970s, although he strove to avoid such restrictive labels. The spirituality of Eastern culture in general and Hinduism in particular has had a profound impact on Clemente's work ever since 1973, when he embarked upon his first of many trips to India. Clemente and his family moved to New York in 1981, where he has had the opportunity to collaborate with such luminaries as Andy Warhol and Beat poet Alan Ginsberg.

The watercolor Crown demonstrates Clemente's characteristic focus on the human figure, rendered in a distorted and expressionistic manner to serve as a vehicle for the artist's spiritual and personal symbolism. The wet, runny appearance of the watercolor lends Clemente's forms even greater expressiveness.