Untitled (Winnie the Pooh Series)
Jeff Koons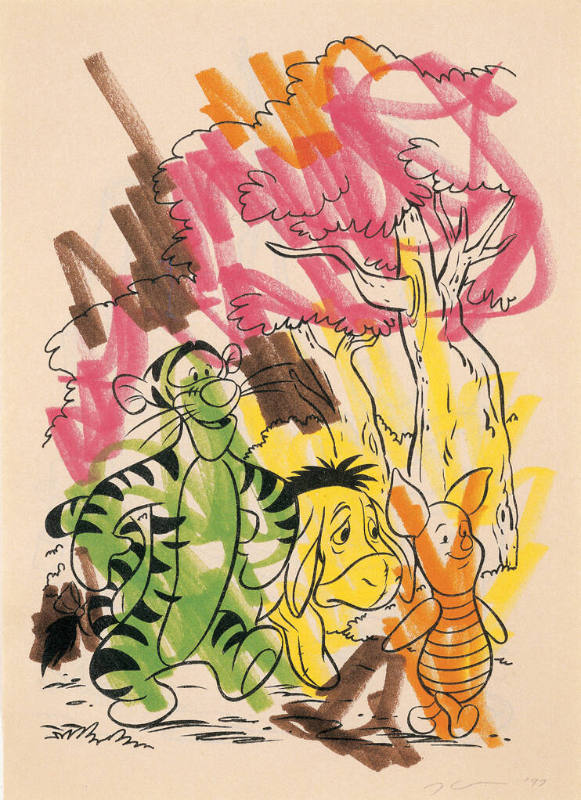 Artist

Jeff Koons
Title

Untitled (Winnie the Pooh Series)
Date

1997
Medium

felt-tip pen and printed ink on paper
Dimensions

Image (Sight): 10 3/4 × 7 3/4 inches (27.3 × 19.7 cm)Framed: 16 3/4 × 13 1/2 × 1 1/4 inches (42.5 × 34.3 × 3.2 cm)
Tags

Drawing
Credit Line

Kirk Varnedoe Collection, Telfair Museum of Art, Savannah, Georgia, Gift of Jeff Koons.
Accession Number

2006.15
Jeff Koons plays with ideas of taste, pleasure, celebrity, and commerce, and is known for turning banal objects and subjects into high art icons; Koons has appropriated everything from advertisements and vacuum cleaners to cartoon characters, collectibles, and plastic toys. Often seen as ironic or tongue-in-cheek, Koons insists his practice is earnest and optimistic.

In this work, a page from a A.A. Milne's Winnie the Pooh coloring book featuring Pooh's companion Piglet is "colored" in by Koons taking a magic marker to the page over various zones. From this work came an 18-foot-tall fabricated sculpture, Coloring Book (1997-2005) as part of his larger Celebrations series. In the fabrication of the sculpture, Koons removed Piglet from the composition, which resulted in a more abstracted sculptural form.

Jeff Koons was born in Pennsylvania and studied art at the Art Institute of Chicago and the Maryland Institute College of Art, receiving his BFA from the latter institution in 1976. After graduating, Koons supported himself by working as a commodities broker on Wall Street while establishing his artistic reputation in New York. By the mid-1980s, Koons had created a massive, factory-like studio, employing several dozen staff members to help create his art.