Kirk Varnedoe
Timothy Greenfield-Sanders, Kirk Varnedoe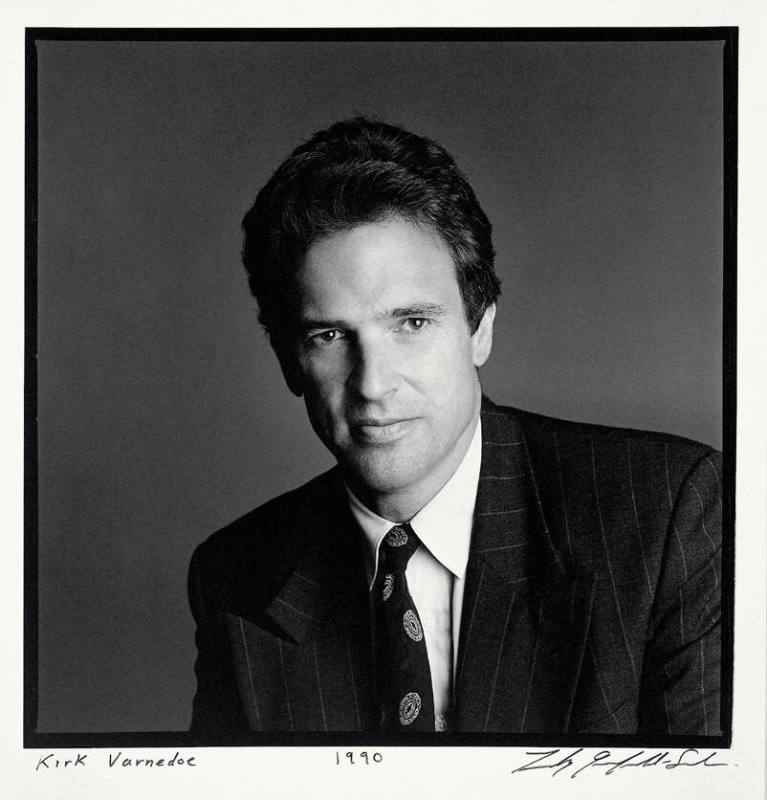 Artist

Timothy Greenfield-Sanders, Kirk Varnedoe
Title

Kirk Varnedoe
Date

1990
Medium

gelatin silver print
Dimensions

Image: 10 1/8 × 10 inches (25.7 × 25.4 cm)Sheet: 11 × 14 inches (27.9 × 35.6 cm)Framed: 18 1/8 × 17 3/4 inches (46 × 45.1 cm)Matted: 16 × 20 inches (40.6 × 50.8 cm)
Tags

Photography
Credit Line

Kirk Varnedoe Collection, Telfair Museum of Art, Savannah, Georgia, Gift of Isca Greenfield-Sanders and Sebastian Blanck.
Accession Number

2006.11
Portrait photographer Timothy Greenfield-Sanders has been photographing the elite of the art and entertainment world for over thirty years. After earning his B.A. in art history from Columbia University, he went to Los Angeles and earned his M.A. in film from the American Film Institute. While a student at the AFI, Greenfield-Sanders volunteered for the task of photographing the world-class actors and directors who came to speak there. His subjects include such luminaries as Alfred Hitchcock and Bette Davis, who were not shy in their critique of the young film student's photography techniques. In 1978, Greenfield-Sanders and his wife moved to New York. With his burgeoning photography portfolio in tow, he had no trouble finding work shooting fashion and portrait photography for major magazines, beginning with publications such as People and Interview, and going on to Vanity Fair and Time. He was also able to attract large numbers of artists to his studio to sit for him, including the majority of the artists whose work is featured here in the Varnedoe Collection.

Greenfield-Sanders's portrait of Kirk Varnedoe from 1990 manifests the direct and unpretentious qualities so characteristic of his work. Simple lighting and background eliminate distraction, focusing the viewer on the humanity and individuality of the subject.