Low Tide
Anthony Goicolea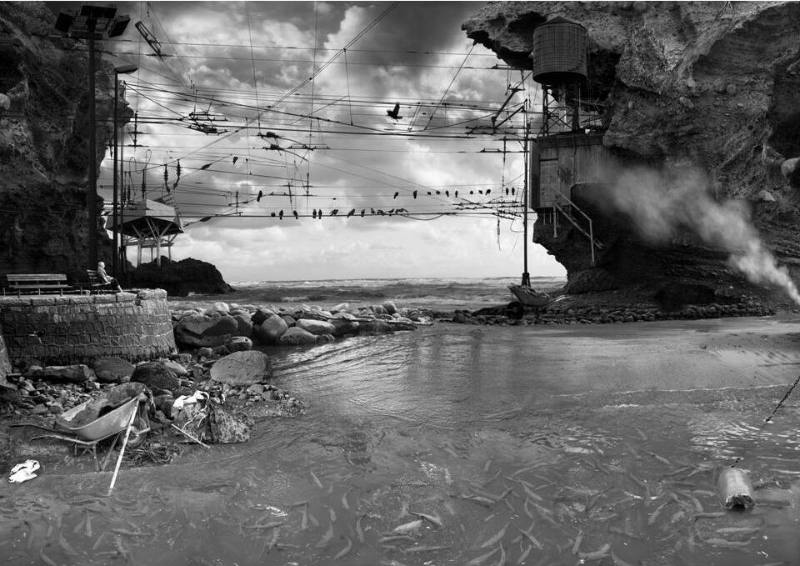 Artist

Anthony Goicolea
Title

Low Tide
Date

2007
Medium

chromogenic print, mounted on aluminum and laminated with Plexiglas
Dimensions

59 3/4 × 84 5/8 × 1 inches (151.8 × 214.9 × 2.5 cm)
Tags

Photography
Credit Line

Museum purchase with funds provided by the Jack W. Lindsay Endowment Fund.
Accession Number

2010.3
Anthony Goicolea's photograph Low Tide from his Almost Safe series has a pervading feeling of decay and doom as the ominous clouds emerge through the tangle of electrical wires that hang between the foreboding rock formations at either edge of the image. Ravens, traditionally a symbol of death as carrion birds, sit portentously on the wires. The wires crisscross from one unknowable graffitied structure to another construction in the rocks. In the foreground, fish converge together, leading the viewer to wonder if they are trapped on the wrong side of the division created by the tumble of rocks. On the same side, an abandoned wheelbarrow rests on the water's edge, spilling over a tumble of debris. Watching over it all is a lone woman sitting on a bench on the left-hand side, unable to stop the inevitable destruction of the bay.

Goicolea combines elements of many different places he photographed to make this particular landscape. The digitally-manipulated image works to tell the story that Goicolea envisioned rather than witnessed in reality. In this case, he speaks to the decay and destruction of the environment through an ominous collaboration of images.